S3 Restaurant
The sun, surf, and sand inspire the coastal menu of S3 Restaurant. This waterfront restaurant shares a unique sharable concept, serving the freshest daily catches, premium cuts of meat, and a sizable one-of-a-kind sushi bar. Stop by daily for lunch and dinner with a business partner or your love, or delight in Sunday brunch with some close friends.
Catch up on current events over brunch, complete with a burrata salad and seared tuna benedict, featuring an English muffin, miso butter, avocado, and gochujang hollandaise. Pair your meal with a refreshing yuzu ginger mule or a glass of crisp prosecco. Stop by the bar and fire pit on weekdays from 4 to 7 pm to enjoy a plethora of $6 specialty cocktails and tasty snacks, including rosemary fries and spicy tuna rolls.
Last and certainly not least, S3 is a great dinner spot to enjoy a plate of char-grilled octopus and wagyu zabuton with a date, or meet clients and share the sushi & sashimi sampler that's fit for three to four people. The wine list is lengthy, the atmosphere is upscale-casual, and the night is memorable with a trip to S3 Restaurant.
Louie Bossi
Next time you desire to share some laughs and hot-out-of-the-oven pizza with friends, stop by Louie Bossi. In addition to the restaurant's convivial ambiance and pies, the menu is teeming with Italian dishes we've all come to know and love. Here you can enjoy some classic meatballs simmered in San Marzano sauce and beef carpaccio prepared with herb-crusted thinly sliced raw beef, arugula, and parmigiano reggiano. Charcuterie lovers can appreciate the prosciutto and cheese-tasting options, especially when paired with a few 3 oz glasses of vino.
The restaurant is open seven days a week and has exceptional deals ideal for outings with close friends and colleagues. Make sure to stop by Mondays for half-off martinis and $2.50 meatball sliders. Wednesdays are considered a "Roman holiday," where every bottle of wine under $99 is half-off! With deals like these, you can't afford not to stop by!
Chima Steakhouse
Sample various salads, meats, and desserts prepared in traditional Brazilian fashion at Chima Steakhouse. Here you can enjoy grilled meat sliced fresh off the skewer alongside some terrific salads from the generous salad bar. Before trying various savory meats, prep your palate with a plate of roasted eggplant salad prepared with peppers, onions, balsamic, extra virgin olive oil, and oregano. Once you've had your fill of veggies, move on to the carnivorous phase of dinner.
Everyone loves a tender and lean helping of filet mignon, while ribeyes are appreciated by those who prefer the more indulgent. Try one or two marinated lamb chops before moving on to some melt-in-your-mouth beef ribs. Don't forget to savor a slice or two of signature CAB picanha — a top prime sirloin cut grilled to perfection. There is a multitude of hearty protein selections to choose from, and you're welcome to try them all! In addition to fresh salads and sumptuous meats, there are several desserts to finish your meal on a sweet note. If you enjoy trying various plates and proteins prepared to your preference, head to Chima Steakhouse.
Sushi Garage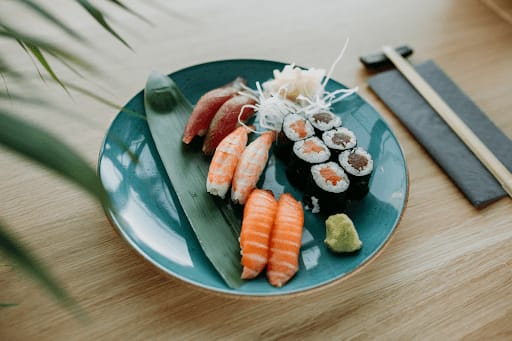 Look no further than Sushi Garage when craving classic and clean Japanese flavors served in a comfortable setting. This restaurant is designed with contemporary elements and a warm ambiance to welcome you to enjoy an unrivaled, modern Japanese dining experience.
The menu features dishes prepared with land and sea ingredients, making it approachable to people of varying tastes. Snag a few appetizers for the table, including seaweed salad, crispy gyoza, and avocado tempura. You simply cannot go wrong with sampling the classic, fresh nigiri options, including shrimp, tuna, and the salmon sushi that infamously melts in your mouth.
For something on the meatier side, opt for some organic chicken and tenderloin skewers. Pair your fresh dinner with a picante lychee or yuzu margarita cocktail, finishing with two pieces of vanilla mochi ice cream. With enough starters, skewers, and sushi to go around, you'll soon be planning your next visit to Sushi Garage.
Steak 954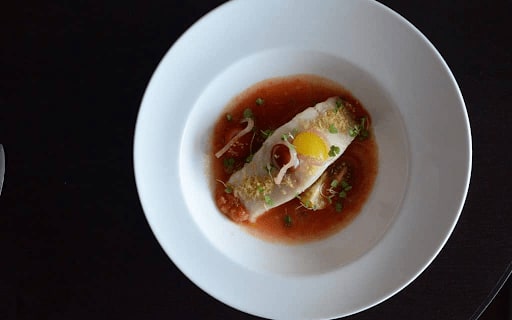 Credit: Steak 954
Take in captivating beach views while feasting on exceptional dishes served at Steak 954. This luxury boutique steakhouse boasts a hip, modern ambiance with a nautical feel. The centerpiece reef aquarium features majestic, floating jellyfish that diners can view while enjoying indulgent seafood and meat courses. The menu is teeming with American wagyu beef, local fish, and decadent side dishes. Steak 954 serves guests from morning until night, with a weekend brunch to boot.
Breakfast features classic egg dishes, including omelets, benedicts, and brioche French toast served with dulce de leche and chantilly cream. Bring your love or double date, and share a seafood platter for two or four during weekend brunch, featuring Alaskan king crab, Maine lobster, chilled shrimp, and oysters. For dinner, opt for a warm bowl of Maine lobster bisque, a light hamachi crudo, and a delicious 32 oz prime dry-aged porterhouse to share. Kick it up a notch by adding a few sides, such as bacon mac & cheese and charred broccolini. Between the vast wine list, carefully crafted cocktails, fantastic fare, and elegant surroundings, a dinner at Steak 954 is one for the books.
Lobster Bar Sea Grille
Relish a night of pristine seafood, live lobsters, and prime steaks in the modern-contemporary digs of the Lobster Bar Sea Grille. This highly sought-after restaurant has received rave reviews from Sun-Sentinel, New Times Broward-Palm Beach, and Zagat.
Enjoy some cocktails and outdoor dining on the covered patio while lounging on cushioned furnishings, or revel in an intimate evening via the dining room boasting tiled archways and custom lighting. In addition to the dining room and patio, the restaurant features a vibrant U-shaped bar ideal for dinner with friends or colleagues.
The lobster bisque au cognac and prime steak tartare "Parisienne" are excellent choices to start your meal. Follow them up with a decadent shellfish tower, complete with a whole lobster, coldwater oysters, jumbo shrimp seafood ceviche, and Alaskan crab. Up the ante with some caviar before moving on to a lobster-focused course. For a truly indulgent delight that will have your tastebuds singing, try the whole lobster and black truffle risotto, made with a butter-poached lobster atop fresh summer truffle acquerello risotto.
Be sure to save room for dessert! You won't want to leave without savoring a fallen chocolate soufflé, classic profiteroles, or vanilla bean crème brulee. Whichever appetizer, dessert cocktail, or entree you decide on, you'll undoubtedly adore the decadent offerings of Lobster Bar Sea Grille.
Eddie V's Prime Seafood
Credit: Eddie V's Prime Seafood
Whether you're looking to take a break with hand-shaken cocktails and discounted oysters at happy hour or delight in a lavish date night with your sweetheart, Eddie V's Prime Seafood is the dining establishment for you. This restaurant was recently opened within the new, dazzling condo/hotel building on Las Olas Boulevard, adding an elegant dining option to the tallest building in Fort Lauderdale. Eddie V's draws guests in with its convivial environment, live jazz in the V Lounge, and exceptional fares, wine, and service.


Unwind with friends Sunday through Thursday from 4 to 6:30 pm with some South African lobster tempura bites, Eddie's Rockefeller oysters, and a glass of chardonnay. Reserve a table for your next romantic dinner date, complete with Petrossian caviar, jumbo Gulf shrimp, and tender bacon-wrapped filets served Oscar-style with king crab. Pair your entree with a perfect Patron margarita or decadent 24-karat cocktail made with Belvedere vodka, Grand Mariner, peach liqueur, raspberries, Roderer rose, and a gold sugar rim. You'll want to visit Eddie V's Prime Seafood for the ultimate luxurious and extravagant dining experience.


Once you are enticed by Fort Lauderdale's endless offerings and wish to move here, contact the highly acclaimed D'Angelo Realty Group. John D'Angelo and his skilled team would be happy to help you find the Fort Lauderdale condo of your dreams.