As bold colors and mixed patterns render our minimalist furniture and bright white walls out of fashion, it's high time we opt for more exciting trends. In 2022, decor beckons us to consider moody hues, contrasting patterns, and wallpaper or ceiling molding. You may find yourself looking to the Victorian era, with its emphasis on crown molding and cluttered opulence, for design inspiration. Add a fresh Florida spin on the darker hues coming into fashion with lighter, beach-inspired colors, which remain true to fashion for
Fort Lauderdale Beach
real estate.

Are you looking to spruce things up on the homefront this year? Perhaps your search for Fort Lauderdale Beach houses for sale has you thinking about design elements to incorporate into your new home. Whatever your specific desire, these home decor and style tips are sure to set your home apart.
Ceiling molding
As we do away with the minimalist style which has dominated the scene for the last several years, we have more room to be creative when it comes to cultivating accents in the home. Ceiling molding is a simple and inexpensive way to make a huge design difference within your interior. Opt for some rounded and edged ceiling molding for a more modern feel, or go for something with intricately detailed flowers and swirls for molding reminiscent of Victorian New England. Add a bit of Florida flair with lighter, beachy colors to round out the look and pay homage to the gorgeous location.
Incorporate vintage furniture pieces
Photo courtesy of Unsplash

Do you have a family heirloom or piece of furniture which beckons you to live on in your new home? Perhaps you were able to snag grandma's old writing table from storage to use as living room decor. However you came across it, vintage statement pieces are decidedly in style. However, if you have no family heirlooms handy, consider finding a vintage piece in good condition at a local flea market, estate sale, or thrift store. Not only is vintage decor in fashion due to its original styling and craftsmanship but recycling old furniture and clothing also helps keep unnecessary waste out of landfills. It's a win-win for everyone.
Add pops of color
For some fun designs in 2022, we are doing away with the minimalist white and gray and incorporating more vibrant shades of color into our living space. Add some deep green and yellow for a nature-inspired aesthetic, or make your space come alive with a few bright colors. Don't be afraid to be bold this year. Now is the time for transformation and enhancing the experience of our homes.
Mix and match patterns
Overly clean, simplistic looks are simply no longer the cutting-edge aesthetic they once were. This year, it is all about bold colors and patterns. Think "grandma's house" meets an "eclectic beachside enclave." Whether you're selling your phenomenal home on the Fort Lauderdale Beach real estate market, decorating your home in a way that is both playful and functional is guaranteed to impress anyone who visits.
Move furniture away from the walls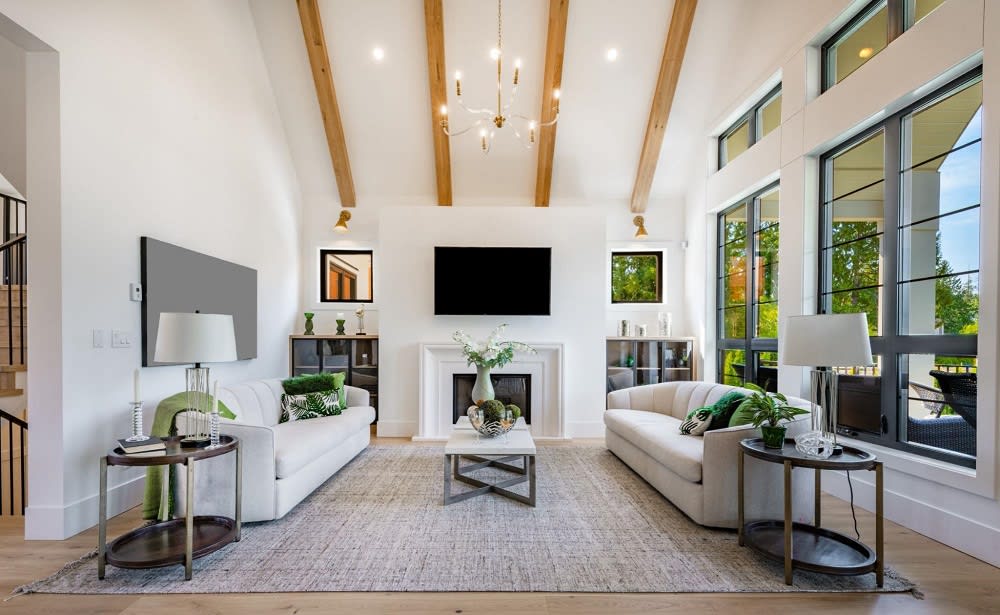 Photo courtesy of Shutterstock
Are you looking to list your Fort Lauderdale Beach home for sale and need a few design tips? Don't fret, because we are here to help! Moving furniture away from the walls is an excellent, simple way to make any room in your home appear larger.
Home staging experts
agree that furniture lining the walls only makes a room stuffy, small, and even a bit boring. Make your home stand apart by cleverly positioning the furniture away from the walls, especially in the living spaces.
Opt for dark colors in the kitchen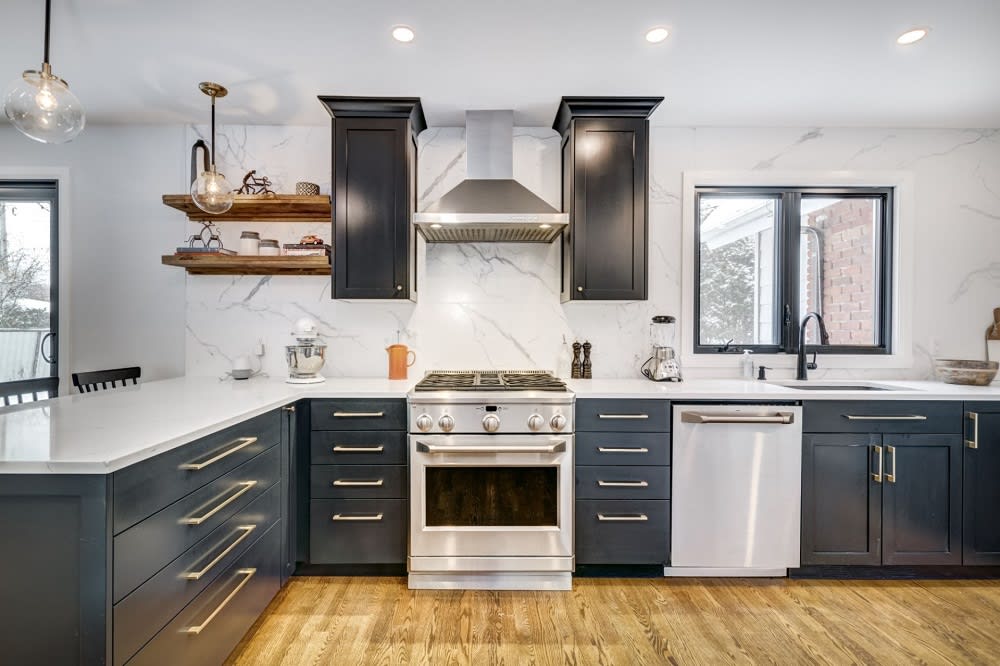 Photo courtesy of Shutterstock

Darker hues have taken over the home in the last few years, as we've certainly been spending a lot more time in our living spaces since 2020 and have re-examined how we want them to function. In any case, many started choosing colors that are a little more forgiving when the kids decide to use the cabinetry as their personal canvas, or perhaps homeowners are eager to try more bold styling choices when it comes to color. Whatever the case, darker colors are here, and they aren't going away anytime soon.

Are you hoping to spruce up the kitchen in your Fort Lauderdale Beach real estate? Try painting the kitchen cabinets a darker blue, gray, green, or charcoal. You'll absolutely love the dimension it adds to the space.
Get inspired by nature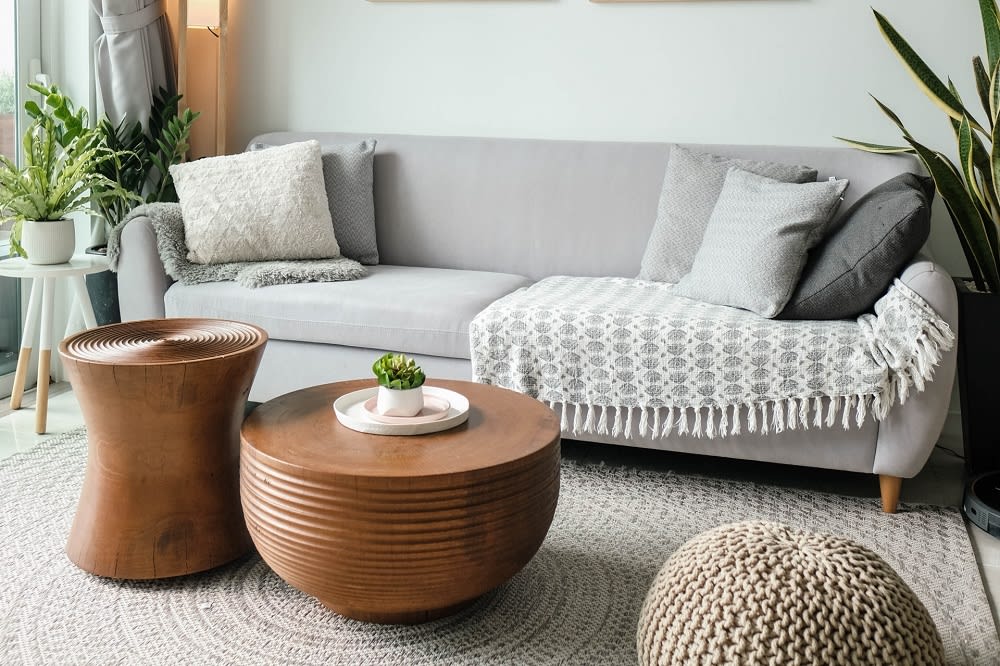 Photo courtesy of Unsplash
We've spent a lot of time in the last few years holed up indoors, so it may come as no surprise that this year's most significant design inspiration comes from Mother Nature herself. Why not bring the greenery indoors? Choose deep greens, yellows, and oranges that mirror the changing autumn leaves, or head down to your local plant shop and grab a few flower bulbs for pops of color. Better yet, look for plants that also improve the air quality in your home, like Bamboo Palms, Gerbera Daisies, and Peace Lilies. Additionally, consider plant-inspired decor for another way to bring the outdoors in.
Lithographic prints
– canvases shrouded in leaves and branches – and triptychs depicting outdoor scenes are excellent decoration choices to make the interior feel more organic and fresh.
Are you looking to sell your glamorous piece of Fort Lauderdale Beach real estate and hoping to impress viewers with design and function? Perhaps you're looking to upgrade the style in your beach home. No matter your interior design and real estate ambitions, the
D'Angelo Realty Group
is here to help. Our unique approach to real estate is guided by extensive market knowledge and a strong understanding of our client's needs that sets us apart from the crowd. We have helped countless buyers like yourself find their perfect beach home in South Florida and would love to have you as our next client. If you want to learn more about decorating your home or about Fort Lauderdale Beach real estate, please don't hesitate to
reach out today
for expert guidance.

*Header photo courtesy of Unsplash